Simply Chic
A modern casual and business-casual resale shop with a focus on style, fashion, and savings. We're perfect for the woman who doesn't want to spend a fortune on a wardrobe OR compromise on style and fashion. We buy and sell gently used women's apparel and accessories, including upscale shoes, designer handbags, and jewelry. We purchase stylish, modern clothing and offer cash on the spot on the same day. All prices are determined by brand, style, and condition.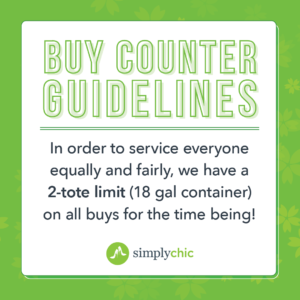 PLEASE NOTE: Our buy counter at our Hazel Dell location is only accepting 2 Totes (18 gal containers) indefinitely! In order to service everyone equally and fairly, it will be first come, first serve, no appointments needed!
For the most accurate buy counter wait times, give the store a call ahead of your visit! 👉 (317) 573-4002
All Simply Chic locations are now open later for all of your shopping and selling needs! Visit us Monday-Saturday 10a-7p and 12p-6p on Sundays. We're buying and selling top gently used brands like Loft, Lululemon, J-Crew, Express, Banana Republic, Free People, and so much more! If you're visiting us to sell after 5p, please call ahead for current restrictions and wait times.
FACEBOOK: Simply Chic (All Locations)